Raisin Apple Crisp - 14 oz
Top your favorite cereal or oatmeal with this classic combo of delicious dried apples, walnut and pecan pieces, with some raisins and the warm flavors of cinnamon, nutmeg and ginger.  This raisin apple granola a winning way to start your day—all while keeping the doctor away. We don't skimp out on the yummy goodness as over 80% of every granola blend is nuts and fruits.  
Use it as the featured ingredient in our CLASSIC APPLE CRISP RECIPE. It will be the last apple crisp recipe you ever search for because it will be the one you use from now on! Our family recipe is one that is sure to delight family and friends anytime of the year!
Let's Get Started!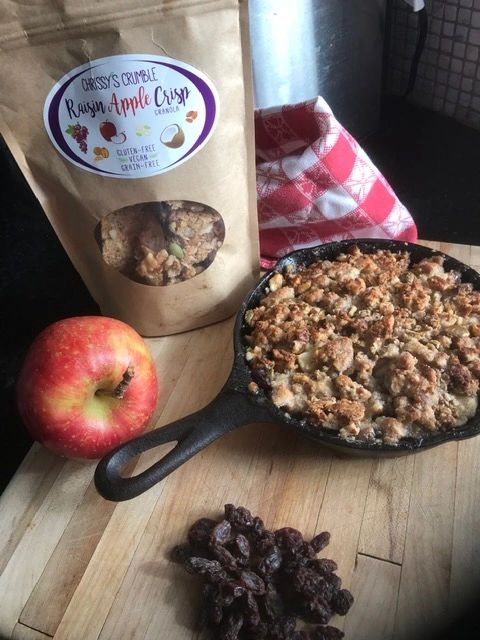 For the filling:
·       1/4 cup maple syrup
·       1 tablespoon lemon juice
·       1 tablespoon arrowroot powder (or tapioca starch)
·       1 teaspoon ground cinnamon
·       1/4 teaspoon ground nutmeg
·       1/8 teaspoon Himalayan sea salt
·       6 cups chopped and peeled apples 782 grams with the core and 640 grams of apples, post coring)
For the topping:
·       1/4 cup blanched almond flour
·       1 tablespoon coconut flour
·       2 1/4 teaspoons ground cinnamon
·       3 tablespoons coconut oil, room temperature (not melted)
·       3 tablespoons maple syrup
·       Pinch of Himalayan sea salt
·       3/4 cup (3oz) Chrissy's Crumble Raisin Apple Crisp or Figgy Nuts NoGrainOla
1.      Preheat the oven to 350°F (175°C) and get out an 8"x8" (20cmx20cm) pan.
2.      Mix the maple syrup, lemon juice, arrowroot powder, cinnamon, nutmeg, and salt together in a large bowl.
3.      Peel the apples, if desired, and core and cut into 1/3" pieces. Place the apples in the maple syrup mixture and stir until the apples are well coated in the mixture. Place in the ungreased pan.
4.      In a medium mixing bowl, stir together the almond flour, coconut flour and cinnamon. Then add the coconut oil, maple syrup and salt and mix until combined.
5.      Pulse the Chrissy's Crumble in a food processor a few times until they're in small pieces (about 1/8" in size). You can also chop them by hand but the food processor takes a lot less time. Stir into the topping mixture until incorporated.
6.      Drop walnut-sized pieces of topping over the apples. Gently press down.
7.      Cover the crisp with foil for the first 20 minutes and then remove for remaining 20 minutes.  Bake for a total of 40-45 minutes or until the topping is brown and crisp and the apples are bubbling.
8.      Let cool for 10 minutes and serve. If not serving immediately, once cool, loosely cover with a piece of plastic wrap (so the topping doesn't go soft). If storing overnight, properly cover the crisp with plastic wrap. Do note that the topping gets soft on the second day as the nuts start to absorb the juice from the apples.
Reviews